Up to PHP 25 000 for up to 180 days, disbursed in 5 minutes
Kviku: terms of credit in the company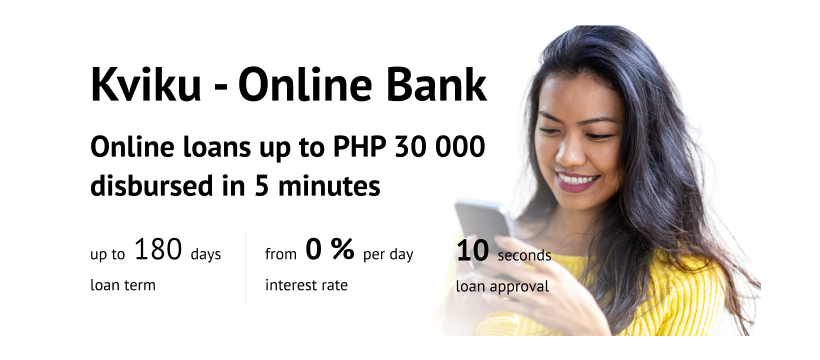 Kviku is a completely offline online service that issues loans on any day of the week, regardless of the time of day and holidays, non-working days. Funds for the treatment of patients are transferred instantly. The human factor is completely excluded, so you can be sure of the objectivity of the decisions made.
Kviku excludes new and functional software that can automatically learn 1800 customer data based on information from your profile.
Loan terms
| | |
| --- | --- |
| Borower Age | 20 — 55 years |
| 1st loan amount | 500 — 25,000 PHP |
| 1st loan interest rate | 0.16% |
| Loan term | 60 — 180 days |
| Loan credit annual fixed rate | 0.16% |
| Repeat loan amount | 500 — 25,000 PHP |
| Repeat loan interest rate | 0.16% |
| Money receipt speed | Application processing time can be from 5 minutes to 1 working day |
| Types of loans | Fast cash loan, Loan online, Personal loan |
Conditions for obtaining a loan online at Kviku
You can get a loan if:
You are a citizen of the Philippines between the ages of 20 and 55 and hold a valid government-issued ID.
Your mobile phone number is not blocked.
You have registered on the Kviku website.
Kviku will only require one valid government-issued ID to apply for a loan, but it would be helpful if you could submit supporting documents such as payroll, COE, ITR, company ID, DTI (if you are self-employed or running a business). ). Repeat borrowers may be automatically approved.
Benefits of the Kviku service
We have kept paperwork to a minimum to give you the easiest way to get a loan.
There is no need to visit the branch. You can apply at any time, even during non-working hours of the bank and on weekends.
Get your loan approved in just 24 hours and the cash will be transferred directly to your bank account.
No hidden fees or charges. Kviku customers know exactly how much they pay for using a loan.
How to get a loan in Kviku?
Getting a loan is very easy. Just fill out an online application on the company's website, enter the loan amount and select the method of receiving money. Enter the code that will be sent to you by SMS to confirm the contract. The Kviku service will instantly transfer funds to you. Step by step it looks like this:
Fill out the application form online
All you need to do is fill out a simple application form on the Kviku website, take a photo of yourself and your document.
Wait for approval
In a few minutes you will receive an SMS with a decision on your application.
Get your money instantly
Your money will be transferred to your bank account within 60 minutes.
How to get access to your personal account?
Follow the link provided by Kviku. Enter your login credentials: your policy number as login, date of birth as password. If the link looks rather long and contains a lot of letters and numbers, you will be authorized automatically. It is unique to you and already contains your username and password.
How to use the Electronic Doctor option?
Select the Electronic Doctor option available in your account on the Kviku website and click the "Get Service" button. Enter your details: first / last name, email and phone number.
After entering your credentials, answer the questions you see on the screen. When the consultation is completed, you will be given the option to add additional comments. If something confuses you, there are incomprehensible nuances – do not hesitate to leave comments. Company specialists check these comments and contact you.
How do I know if my application has been approved?
You will find all relevant information in your profile. The information will appear there after you submit the application form. Once your application is approved, the contract will be confirmed by entering a code that will be sent to you via SMS.
Please be careful when filling out the form. If, for example, you enter incorrect bank details, then in this case you will not receive the money, since the account number does not match the specified ID data. The money sent will be returned to Kviku within 2 weeks. After that, the loan will be canceled without interest and commission. You can fill out a new application with correct bank details. Please be sure to double check the personal information you enter.
Application approved. When can I receive money?
The requested amount is sent immediately after signing the contract. Transaction speed depends on your bank and usually takes 1 to 2 days. For Cebuana Cash Pick-up and G-cash, the transfer will not take more than 24 hours on business days.
How long to wait for the amount after the approval of the application?
Kviku sends money in a couple of seconds after confirming the contract. However, it may take some time for receiving banks to receive funds. You can expect to receive funds from 8:00 am to 4:00 pm on weekdays. If your application was approved at night, you will be able to receive the money the next morning. If your loan request was approved over the weekend, you will only receive your transfer on Monday morning.
Why was my loan denied?
If you're of legal age and have always made your loan payments on time, you may have made a mistake. Try filling out and submitting the application again. The more personal information you provide, the more likely your application will be approved.
If you have an outstanding loan with a third party and make the required payments on time, Kviku will almost certainly make a positive decision and your Kviku application will be approved.
How to pay off a loan in Kviku?
Repayment of a loan from the microfinance organization Kviku can be done in the following ways:
bank card
Bank transaction
in payment centers.
How to pay off a loan with a bank card?
To pay, log in to your Personal Account on the kviku.ph website and click on the "Pay" button. Select Dragonpay and it will direct you to its page. There will show the "Reference Number" on the page or send the instruction via email or SMS. Use the link number to pay online.
How to pay off a loan by bank transfer?
You can do this by depositing money into your Kviku bank account:
In your Profile, click "Billing Information", then select "Details".
Your lifetime ID and loan agreement details will appear in a new window. You will need them when paying. Payment can be made at any nearest bank.
Bank: UnionBank
SWIFT: UBPHPHMM
Account number: 100590307609
Account Name: KVIKU LENDING CO INC
Purpose of payment: "Repayment of loan agreement No. ___"
Important! Bank transfers sometimes take up to 5 days. To avoid any inconvenience, please send proof of payment with the date by email: support@kviku.ph. This will avoid delays in payments.
How to repay a loan in payment centers?
When paying with Gcash, select DragonLoans, then enter your lifetime ID.
List of payment centers that can process your ID:
Cebuana Lhuillier;
LBC;
Bayad Center;
Robinsons Dep't. store;
SM Dep't / Supermarket / Savemore Counter;
ECPay;
RD Pawnshop;
7/11 (Dragonloans).
Can I apply for another loan?
The Kviku service sets an individual limit for each client. You are eligible for another loan within these limits, as long as you are not past due on previous loans.
Kviku automatically increases the available credit after paying off the previous one. The next loan will be available immediately after the previous loan is repaid.
Borrow Responsibly
Kviku values disciplined and responsible borrowers who make payments on time, and therefore improves the terms of their contracts. Each new loan will be more profitable for customers. Some useful tips and reminders:
Apply for a loan that is equal to or equal to your monthly earnings or less to make sure you can afford it.
Select the loan term after which you can actually make the payment.
Pay off your debts on time. Delays negatively affect your credit history and increase the amount of debt due to the accrual of penalties.
The loan amount is determined individually.
The loan term is fixed. Early repayment of the loan (full or partial) is possible.
Contacts
| | |
| --- | --- |
| Official website | kviku.ph |
| Office address | 18A Trafalgar Plaza, 105 HV Dela Costa Street, Salcedo Village Makati City, Philippines |
| Working time | The service operates 24/7, on holidays and non-working, Customer Service Representatives – 9:00 a.m. to 6:00 p.m. |
| Email | support@kviku.ph |
| Social networks | Facebook |